2016 CORPORATE SPONSORSHIPS
YOUR LOGO ON THE BIG SCREEN IN A 400 SEAT THEATRE!
An iconic cultural event since 2005, the Dam Short Film Festival has brought thousands of attendees and hundreds of visiting filmmakers to Southern Nevada to see the best in independent film. The 12th annual Dam Short Film Festival (February 10-13, 2016) will exhibit 129 unique, breathtaking, and thought-provoking short films in all styles and genres from its home at the historic Boulder Theatre in downtown Boulder City, NV. The four-day event includes parties, panels, and special events that are designed to enlighten, entertain, and inspire.
As a 501(c)3 non-profit organization, we rely on the support of our friends in the business community. Consider the goodwill your support for this amazing event can generate for your organization—in print, on screen, and on the web, the Dam Short Film Festival offers Sponsorship Packages that fit any size business or budget.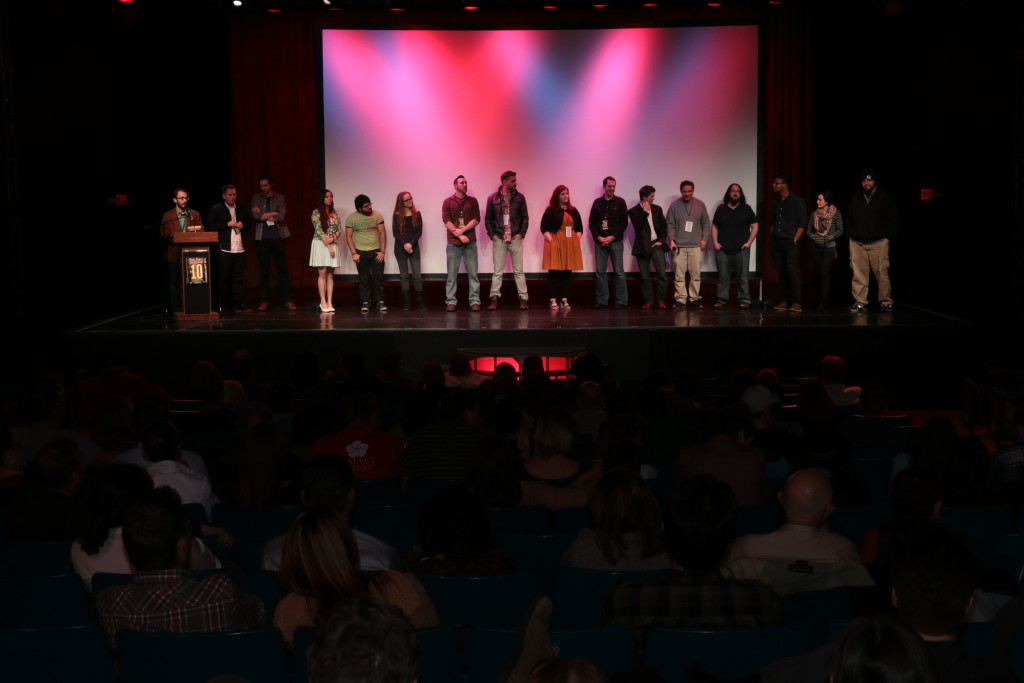 Origin
Las Vegas / Henderson
60%
Other States and Countries
10%
Festival Trailer and Slideshow
Each film program starts with a festival slideshow and trailer. Audiences will see your logo on a 20-foot screen over two-dozen times during the event.
Festival Program and Poster
Printed festival programs are given, for free, to festival attendees and guest filmmakers. They are an invaluable guide to the event and are referred to often and are saved as souvenirs. The festival poster is distributed across Boulder City and Las Vegas, is sold to attendees, and given to VIPs.
Festival Website and Social Media
We maintain the festival website year-round and stay active with social media (Facebook, Twitter, Instagram, Pinterest, Tumblr, and many others). This offers the perfect means to connect your brand with social media savvy youth.
Custom Branding
Although we offer many standard sponsorship levels, we can also customize a sponsorship to work with your particular brand. For example, a customized sponsorship might include a branded program, party, or reception.
$250
BIGHORN SHEEP
BENEFITS
Slide in 2016 pre-program slideshow
Link on 2016 DSFF sponsor webpage
$500
SILVER PROSPECTOR
BENEFITS
Logo in 2016 DSFF trailer
Logo on printed 2016 DSFF program
Logo and link on 2016 DSFF sponsor webpage
Slide in 2016 pre-program slideshow
Acknowledgement on DSFF Facebook and Twitter
$1,000
GOLD STRIKE
BENEFITS
Logo on 2016 DSFF trailer
Logo on printed 2016 DSFF program
Logo and link on 2016 DSFF sponsor webpage
Slide in 2016 pre-program slideshow
Acknowledgement on DSFF Facebook and Twitter
2 VIP Passes
2 DSFF T-shirts, hats, and swag bags
$2,500
BRISTLECONE
BENEFITS (ON-SITE & SOCIAL MEDIA)
Acknowledgement by festival executive director and director during introduction of each program
Acknowledgement on DSFF Facebook and Twitter
Product and brochure placement in DSFF swag bags, Filmmaker Lounge, and Boulder Theatre lobby for distribution to filmmakers and VIPs
BENEFITS (LOGO PLACEMENT)
Logo on 2016 DSFF poster
Logo on 2016 DSFF trailer
Logo on printed 2016 DSFF program
Logo and link on 2016 DSFF sponsor webpage
Slide in 2016 pre-program slideshow
BENEFITS (TICKETS, PASSES, SWAG)
6 VIP Passes
6 DSFF T-shirts, hats, and swag bags
24 2016 general admission tickets
$5,000
DESERT JEWEL
BENEFITS
All benefits of the Bristlecone Sponsorship

30 second promotional spot to be presented before each program screening
$10,000
MIGHTY COLORADO
BENEFITS
All benefits of Desert Jewel Sponsorship

Exclusive invite-only party for sponsor employees
Filmmaker award named after sponsor
Front page banner on DSFF website
Front page banner on DSFF Facebook page
Inclusion in all 2016 DSFF press releases
"Special Thanks" advertisement in the Las Vegas Review-Journal
Tsvetelina Stefanova
Sponsorship Manager
702-279-4921